Last updated 02 January 2017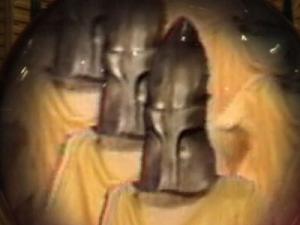 Broadcast: Saturday 10th May 2003
11:00pm-11:30pm EDT
(03:00 GMT)
«
»
MiND
Featuring: Tom Baker, Lalla Ward, Adrienne Corri, David Haig, Nigel Lambert
The obsessed Pangol is determined to give Argolis a future with himself as the leader of the reborn race. He plans to strike back at the Foamasi.
Synopsis Source: Doctor Who Guide
Broadcast Source: TWiDW
Report from the This Week in Doctor Who Archive:
Wednesday 7th May 2003:
WYBE Philadelphia, PA
http://www.wybe.org
analog 35
digital 34-1
Philadelphia DirecTV Local 35,909
Philadelphia Dish Local 8162,35
Sat 11PM EDT The Leisure Hive pt 4 of 4
An army of Pangol clones plan to rebuild the Argolin race as an intergalactic army. Brings a new meaning to the "An Army Of One" ads the US military runs.
Sat 11:30PM EDT Meglos pt 1 of 4
Meglos, last survivor of his race, plots to impersonate the 4th Doctor and steal a priceless artefact that can change the course of his own world. But how to keep the real Doctor from interfering?
Next week - a

Doctor Who

marathon from 8PM to Midnight to raise money for upcoming episodes.