Last updated 02 January 2017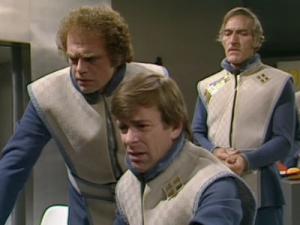 Broadcast: Saturday 11th January 2003
11:30pm-12:00am EST
(04:30 GMT)
<
>
«
»
MiND
Featuring: Tom Baker, John Leeson, Mary Tamm, Philip Madoc, Glyn Owen
Tracing the fifth segment of the Key to Time to the third moon of Delta Magna, the Doctor and Romana are soon caught up in the conflict between humans and the Swampies.
Synopsis Source: Doctor Who Guide
Broadcast Source: TWiDW
Report from the This Week in Doctor Who Archive:
Wednesday 8th January 2003:
WYBE Philadelphia, PA
http://www.wybe.org
analog 35
digital (34) - coming 2003
Philadelphia DirecTV Local 35,909
Philadelphia Dish Local 8162,35
Sat 11PM EST The Androids of Tara pt 4 of 4
The 4th Doctor races to stop a royal wedding and murder. Highlight of the episode - the swordfight between the 4th Doctor and Count Grendel.
Sat 11:30PM EST The Power of Kroll pt 1 of 4
On a swampy moon, humans mine for methanee, while natives worship an octopus-like god that they feed prisoners to. Enter Romana - aka potential prisoner.