Last updated 02 January 2017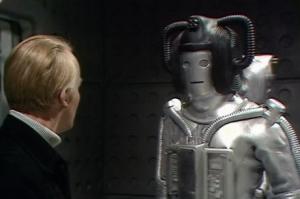 Broadcast: Saturday 23rd February 2002
5:30pm-6:00pm EST
(22:30 GMT)
<
>
«
»
MiND
Featuring: Tom Baker, Ian Marter, Elisabeth Sladen, David Collings, Ronald Leigh-Hunt, Jeremy Wilkin
The Cybermen who are intent on destroying Voga. The Doctor and two of the Nerva crew become walking bombs which they Cybermen will detonate once they reach their target.
Synopsis Source: Doctor Who Guide
Broadcast Source: TWiDW
Report from the This Week in Doctor Who Archive:
Friday 22nd February 2002:
WYBE 35 Philadelphia, PA
http://www.wybe.org/
DirecTV Philadelphia Local 35/909
Dish Network Philadelphia Local 8162
Sat 4AM+5:30PM EST Revenge of the Cybermen pts 3+4 of 4
The Cybermen have control of Nerva Beacon, and want to use the humans as bombs to destroy Voga, the famous planet of Gold. Meanwhile, Kellman's true motives are revealed. Meanwhile, no one can bear to tell the Vogans that the biggest reason people probably try to kill them is that they all look alike.
Sat 11PM EST Terror of the Zygons pts 1+2 of 4
Reunited with the TARDIS, the 4th Doctor, Sarah, and Harry finally return to Earth. Oil rigs are being destroyed near Loch Ness. The prime suspect - the Loch Ness Monster. But who believes in the Loch Ness Monster?