Last updated 02 January 2017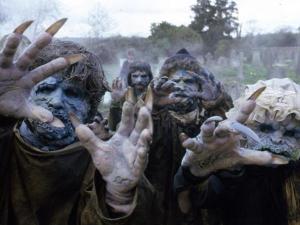 Broadcast: Saturday 24th November 2001
4:30am-5:00am EST
(09:30 GMT)
<
>
«
»
MiND
Featuring: Sylvester McCoy, Sophie Aldred, Dinsdale Landen, Nicholas Parsons
As Russian forces approach the English coastline, an ancient evil stirs beneath the surface of the water. For Ace and the Doctor, a deadly game of revenge has begun
Synopsis Source: Doctor Who Guide
Broadcast Source: TWiDW
Report from the This Week in Doctor Who Archive:
Wednesday 21st November 2001:
WYBE 35 Philadelphia, PA
http://www.wybe.org/
Sat 4AM+5:30PM EST Ghost Light ep 3 of 3
The final filmed episode of the series, though a change in the airing order meant it was not the last to air. Ace reacts badly to the real reasons why the Doctor came to the old mansion. LIGHT arrives to shed light on what is going on. The situation goes from bad to Hearse.
Sat 4:30AM+6PM EST The Curse of Fenric ep 1 of 4
Sat 11PM EST The Curse of Fenric eps 2+3 of 4
The 7th Doctor and Ace visit a village by the sea during World War II. Code-breakers are working hard trying to learn the secrets of the German cyphers (an aspect of the war which was hidden from the public for many years). But something sinister is going on with the code-work, and an alien flask arrives with dangerous intentions.