Last updated 02 January 2017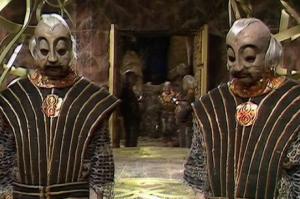 Broadcast: Tuesday 27th November 2001
7:30pm-8:00pm EST
(00:30 GMT)
<
>
«
»
BBC Kids
Featuring: Tom Baker, Ian Marter, Elisabeth Sladen, David Collings, Ronald Leigh-Hunt, Jeremy Wilkin
The Doctor, Sarah and Harry return to Nerva, but at an earlier point in time. The crew are dying and blame a space plague, but the Doctor suspects a survivor may be responsible.
Synopsis Source: Doctor Who Guide
Broadcast Source: TWiDW
Report from the This Week in Doctor Who Archive:
Wednesday 21st November 2001:
BBC Kids
http://www.bbckids.ca/
Weekdays 7:30PM, 10:30PM, 2AM, 4AM EST (4:30PM, 7:30PM, 11PM, 1AM PST)
Fri Genesis of the Daleks ep 5 of 6
Mon Genesis of the Daleks ep 6 of 6
Davros gains forbidden knowledge which can enable the Daleks to alter history and conquer the universe.
Tue-Fri Revenge of the Cybermen eps 1 - 4 of 4
The 4th Doctor, Sarah, and Harry return to Nerva generations before their last visit. Fortunately, the TARDIS is traveling back in time to meet them. Unfortunately, the crew of Nerva are being systematically murdered, softening the station for an alien takeover.