Last updated 02 January 2017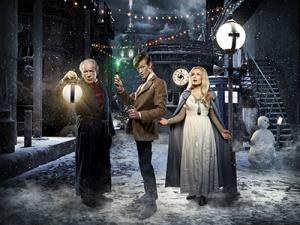 Cancelled

: Monday 7th March 2016
10:00am-11:00am EST
(15:00 GMT)
<
>
«
»
BBC America
(adverts during broadcast)
Featuring: Matt Smith, Arthur Darvill, Karen Gillan, Laurence Belcher, Michael Gambon, Danny Horn, Katherine Jenkins
Amy and Rory are trapped on a crashing space liner, and the only way The Doctor can rescue them is to save the soul of a lonely old miser. But is Kazran Sardick, the richest man in Sardicktown, beyond redemption? And what is lurking in the fogs?
Synopsis Source: BBC America website schedule listing
---
Broadcast notes:
All episodes that were due on this week have been dropped from the schedules, with Ramsey's Kitchen Nightmares UK taking up the 10am slot and Star Trek The Next Generation the 11am slot!
The original scheule was:
Mon 10am A Christmas Carol
Mon 11am The Impossible Astronaut
Tue 10am Day of the Moon
Tue 11am The Curse of the Black Spot
Wed 10am The Doctor's Wife
Wed 11am The Rebel Flesh
Thu 10am The Almost People
Thu 11am A Good Man Goes To War
Also, the following weekend episodes were also replaced by James Bond films Casino Royale, The Spy Who Loved Me and Octopussy:
Sat 6pm The End of Time
Sat 9pm The Husbands of River Song
Sat 10:15pm The Day of The Doctor
Broadcast Source: BBC America