Last updated 02 January 2017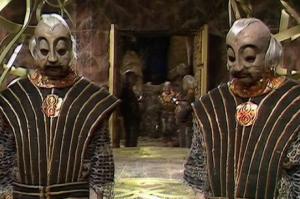 Broadcast: Saturday 31st October 2015
7:00pm-7:30pm MDT
(01:00 GMT)
<
>
«
»
KRWG
Featuring: Tom Baker, Ian Marter, Elisabeth Sladen, David Collings, Ronald Leigh-Hunt, Jeremy Wilkin
Conclusion. Dr. Who and Sarah await the biggest explosion in history. Vorus: David Collings. Commander: Ronald Leigh-Hunt. Tyrum: Kevin Stoney. First Cyberman: Melville Jones.
Synopsis Source: KRWG website schedule listing
---
Broadcast notes:
Simply billed as "A cult favorite about the journeys through the universe of a time-traveling eccentric, a cultural icon who has been portrayed by more than a half dozen actors since the show's 1963 debut on the BBC."
Broadcast Source: KRWG